The Best Tips For Selling Homes In The Winter
Posted by Gurpreet Ghatehora on Friday, December 15, 2017 at 8:55 AM
By Gurpreet Ghatehora / December 15, 2017
Comment
It is tougher to sell homes in the winter, but it is definitely possible. According to some expert real estate agents, you can sell just as well during the winter as you can in the spring and the summer if you know how to tailor your approach to the season. Here are insider tips from real estate agents who successfully sell homes in the winter to help you sell more homes this winter season:
Hire a Landscape Service
Snow can fall at any time during the unpredictable winter. The last thing you need is to show up for an appointment to show the house and have the path that you shoveled yesterday filled in already with new snow. So hire a landscape or plowing service to make sure that the driveway of the home and the walkways are always plowed and shoveled. Make sure there is plenty of salt and de-icer on the driveway and paths too so that people won't hesitate to walk right up to the house. And remember to salt and de-ice the patio, the deck, any outside areas and backyard paths too. Buyers will want to see all those spaces too.
Add Extra Lighting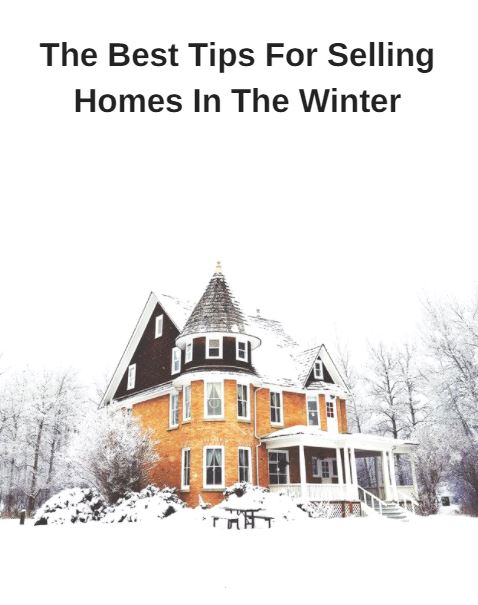 Even a house that is open and airy will seem darker in the wintertime. The days are shorter and often it's cloudy so the rooms inside will look dark. Add extra lighting to make the house seem brighter and more inviting. Holiday lights are a great way to make the house look festive and make it look brighter. But you can also bring in floor lamps. Or use strategically placed mirrors to reflect the light in the room and make it bright and cheerful.
Add Some Color
When the snow comes the front of the house can look very monotone, especially if the house is white. Make sure that you add some bright pops of color near the front door to make the house more attractive. Pain the front door or least make sure it's sparkling clean. Put some multi-colored holiday lights around the house. Add some planters on either side of the door filled with bright red holiday foliage or with lighted Christmas trees. Or you can even use a colored spotlight on the front door to make the house really stand out as buyers walk up to the door.
Price Aggressively
No matter how great the house looks if it has not priced appropriately for your market it will not interest buyers. When you are trying to sell a house in the winter always price the house at the low end of the comparable prices in that particular market. Even buyers who love the home may not close the deal if the house is priced too high and the longer the house sits through the winter the harder it will be to sell it.